Run the London Marathon for The Musical Brain
23rd April 2017, London
Join 38,000 runners in one of the world's most iconic races. Run for The Musical Brain and help to support vital new research on how music can benefit our minds, brains and bodies. Successful applicants will be asked to pay a £50 registration fee to secure their place.
Apply for a Musical Brain charity place
To register your interest, please send us an email with the following:
Name
Email address
Mobile number
Why do you want to run for The Musical Brain?
Do you have any running / fundraising experience?
How much do you think you will raise for The Musical Brain?
If successful, we will provide full support in the lead up to the marathon, including:
one-to-one training advice
access to professional training plans
fundraising tips
a professional Musical Brain running t-shirt or vest
Already have a place?
You can still join our team as an Own Place runner, with no minimum fundraising target. You will have access to our pre-race support as well as a Musical Brain running t-shirt. Email us if you already have a place and would like to run for The Musical Brain.
More information on the work of The Musical Brain:
Music has inspired, entertained, comforted and moved us for thousands of years. But it is only recently that science has begun to shed light on the incredible impact that music and other art forms can have on the mind, brain and body. The Musical Brain is committed to bridging the gap between the arts and sciences by encouraging cross-disciplinary discussion between neuroscientists, artists, medical professionals and performers, and by sharing and debating the groundbreaking research with a public audience. Our conferences and events demonstrate the life-enhancing effects of the arts on conditions such as depression, Alzheimer's disease, epilepsy, Parkinson's, and post-traumatic stress disorder as a result of conflict, providing practical implications for medical professionals, therapists and arts practitioners.
We are a small charity and require funding to cover our core and event costs. Run for us and help to ensure that the vital discussion between science and the arts continues.
---
Shakespeare's Musical Brain
King's College, London,

Saturday 16 April

, 10:00 - 20:00
A one-day conference exploring the vital importance of music to Shakespeare himself, and the role it played in his company's creative processes, in the Great Hall, with a concluding performance in the Chapel, one of London's hidden architectural gems.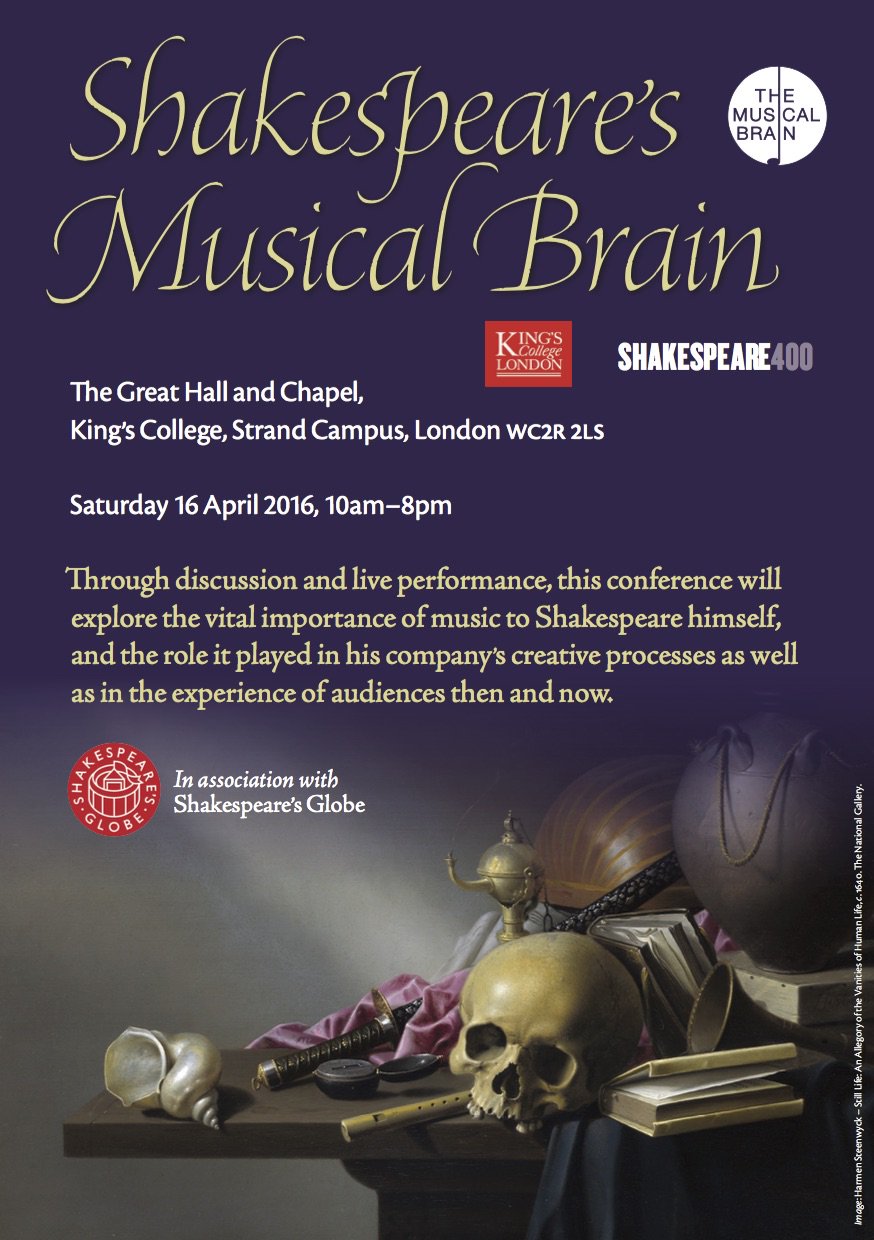 Supported by Backstage Trust and NADP
---
"The closer to uncertainty and death you are, the more important music becomes."
- Lt Col Bob Meldrum - Music, Poetry and the Trauma of War, LSO St Luke's, 2 November 2014
---
WE AIM:
To bring together the worlds of

science

and the

arts

To advance understanding of the value of music and other art forms to the mind, brain and body
CLICK HERE for videos and transcripts from our conferences on:
Worlds in Collision: Music and the Trauma of War
The Beethoven Question: Can Art Make Life Worth Living?
Why Music? Is Music Different from the Other Arts?