Walking with Elgar 2017
15-16 September 2017
In September 2016 we organised a two-day sponsorsed walk along the Three Choirs Way, led by Stephen Johnson, exploring the surroundings that Elgar knew and loved. It was a wonderful two days and our walkers raised a collective total of over £3,400 for The Musical Brain.
It was such a success that we are going to repeat the event in September 2017. If you are interested in attending and would like to find out more, please CLICK HERE.
This year's walk will also follow the Three Choirs Way but will differ to include visits to Craig Lea, one of Elgar's homes around Malvern, and to Malvern St James Girls' School, where Stephen Johnson will give a lunchtime talk in discussion with Ian Brown, piano, and Maureen Smith, violin, who will play works by Elgar, including the Violin Sonata.
We provide the organisation, guide, talks and transport if required, free of charge. You will pay only for your accommodation and meals.
We ask each walker to raise sponsorship from friends, acquaintances and relations. The worked very well last year, with walkers raising an average of £675 each by simply setting up an online sponsorship page and sending it out via email (our administrator, Greg, will be happy to help setting up your sponsorship page). If you would prefer to simply donate this amount to the Musical Brain yourself that is of course fine.
We hope you are able to join us!
---
SAVE THE DATE - 16 April 2016
A one-day conference at King's College, London - part of Shakespeare400. More info and booking details coming soon.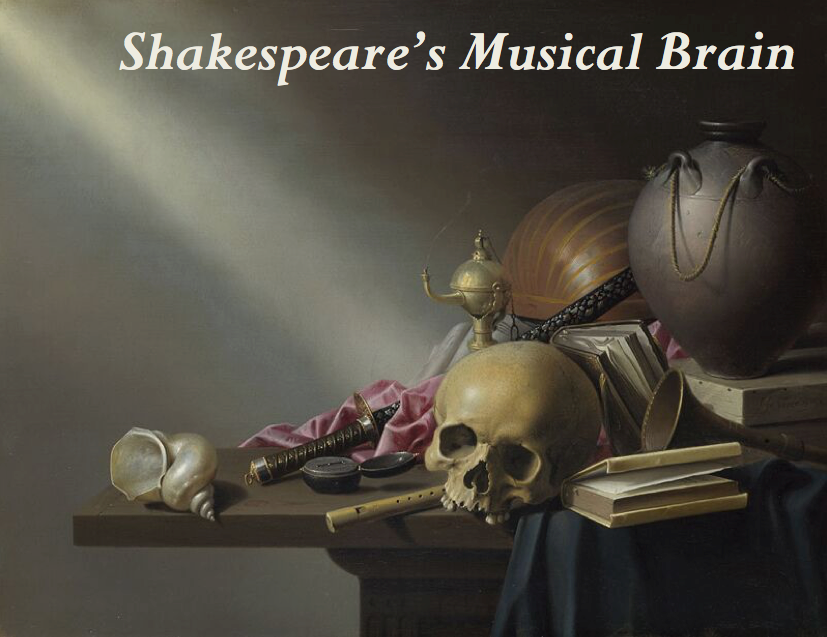 Image credit: Harmen Steenwyck - Still Life: An Allegory of the Vanities of Human Life, c. 1640. The National Gallery.
---
Singing, Science & Adventure - event for all ages (9 yrs +)
The Landmark Arts Centre, Teddington - 2/3 October 2015
CLICK HERE to download a flyer.
Discover how singing can improve your health and wellbeing with The Musical Brain. Join in and explore with scientists and musicians how Neanderthals used their voices to navigate caves, how the voice evolved, what happens in your brain when you sing and how group singing can make you and others happy.
We were delighted to have three experts leading the event, alongside people from the local community:
Prof Steven Mithen, author of The Singing Neanderthals, deputy vice chancellor and Dean of the Faculty of Science of Reading University, on the evolution of the human voice and singing;
Dr Evangelos Himonides, reader in Technology, Education and Music at UCL Institute of Education on the vocal instrument, how it works, its functions and uniqueness;
and Vivien Ellis, singer and researcher (Sidney de Haan Research Centre for Arts and Health) who will use singing, movement and body percussion in her presentation on singing and health, with the audience/children all taking part.
This event is part of the national Fun Palaces weekend – a free celebration of culture, arts and science at the heart of our communities. (www.funpalaces.co.uk)
Friday 2 October – 10.30-12.00 and 1.30-3.00 (school groups)
Saturday 3 October – 11.00-12.30 (for everybody)
The Landmark Arts Centre, Teddington, TW11 9NN
Supported by:
---
Videos from Worlds in Collision: Music and the Trauma of War
We filmed the whole of our 2013 conference, and are pleased to be able to share the videos with you. Click HERE to view them on Youtube. To give you a taste, here is Patrick Bade discussing Music that Changed Sides:
---
Music and Conflict Resolution - Gresham College lecture by Ian Ritchie
Music takes many forms and for a majority of listeners the highest levels of emotional satisfaction from music are derived from the organic relationship between dissonance (harmonic tension, disruption or conflict) and consonance (harmonic resolution). Music is a basic human impulse which precedes the formation of words. Where words often fail, music can be instrumental in successful communication between divided individuals or communities. Music can help to treat the traumas and mend the scars of war. The 2013 City of London Festival, for which Ian Ritchie will direct his final programme in June and July, will explore these themes in concerts, talks and the Worlds in Collision conference at Mansion House on 28/29 June.
The transcript and downloadable versions of the lecture are available from the Gresham College website.
---
Lost and Sound - DVD coming soon
Lindsey Dryden's brilliant and moving film Lost and Sound will be available on DVD soon. It is a fascinating documentary that follows a music critic, a dancer and a pianist over 2 years as they journey deep into sound and silence to rediscover music after deafness. There was a screening of this film at our recent Beethoven Question conference and it went down as one of the main highlights of the weekend, garnering much praise from our delegates.
Click here to visit the Lost and Sound website.
Watch the trailer below:


---
Michael Trimble on BBC Radio 4's Start the Week
In a special recording of Start the Week, Prof Michael Trimble took part in discussions relating to the power of the human voice. With him were Mark-Anthony Turnage, Mary King, Rillando Villazon and Andrew Marr.
Click here to listen to the recording.
---
LATEST NEWSLETTER
Download the Musical Brain Summer Newsletter here.

---
A Gift of Culture
A documentary film by Robert Golden on the work of Nigel Osborne, composer, and Professor of Music at Edinburgh University, showing how music in the community and music therapy help to heal children suffering from secondary war trauma in Bosnia and other neurological and psychological problems.

Available to download: www.objectivecinema.net/showcase/2010/03/01/gift-of-culture/

Just click on the link above and enter in this code ocgc08 and you can receive 10% off on all of your purchases with Objective Cinema. The film centres on a children's summer camp above Sarajevo which Professor Osborne has run for the last 12 years. Together with numbers of his students, theatre and music practitioners and other music therapists, he helps the children to develop their own theatre piece. This leads the children into realms of creativity, it develops cognitive skills, calms them emotionally and enhances their self-confidence. Alpha Woodward, an experienced music therapists, explains to a group of teenagers from Srebrenica the meaning of secondary trauma and how they may use techniques and skills to help younger children in their blighted town.

A GIFT OF CULTURE will be of interest to people involved with child psychology, music therapy and cultural development in both the global north and south as well as giving a general audience insight about the aftermath of war. Included in this film are three extras:
• an interview with Nigel Osborne
• an interview with Alpha Woodward
• a seminar in which Ms Woodward and Darren Abrahams, a trained singer and theatre practitioner, help a group of young people from Srebrenica to cope with troublesome children in their theatre group